act!Sustainably
Sustainable injection moulding
Climate Change. Environmental pollution. Scarcity of resources. The issues we face today as a society are multiple. We have long-passed the point where the single guiding parameter is growth. It takes courage and care to make more sustainable decisions and implement ethical measures. At Sumitomo (SHI) Demag, we have taken that step already. Supporting our customers to future-proof and contribute to the circular economy.
Our guiding principle "act!Sustainably" is deeply embedded in our values. It defines all actions we take. Working with Sumitomo (SHI) Demag ensures that you always have a reliable, forward-looking global partner at your side, supported by the latest productivity-enhancing, energy-efficient and sustainable injection moulding technology.
Furthermore, we actively include corporate social responsibility throughout all areas of our business activities:
1. Combining Eastern and Western virtues in a harmonized product portfolio
Sumitomo (SHI) Demag is a member of the Plastics Machinery Group, part of Sumitomo Heavy Industries, Ltd., Japan. We aspire to mold our Group's growing understanding of the Western and Eastern virtues into a sustainable benefit for our customers – realized by a harmonized product portfolio with short delivery times and based on a global platform.
2. The best injection moulding machines and competent international service
We differentiate ourselves from our competition by delivering easily operated, reliable, innovative and economic solutions for injection molding machines and applications, combined with fast and competent support on the shortest possible notice for all our customers worldwide.
We focus on being a trendsetting company, supporting the industries Automotive, Consumer, Electronics, Medical and Packaging with high-end solutions, completed by first-class Automation and expert counselling to create the solution that is best meeting our customers' requests. We aspire to further digitize our value-chain as well as our products and solutions and continue being the world market leader in all-electric machines.
Our aim is to generate sustained profitability by production, quality and sales excellence.
We envision to be the company that never stops working on becoming more ecologically friendly and whose products enable our customers to reduce their CO2 footprint.
This vision is our inspiration.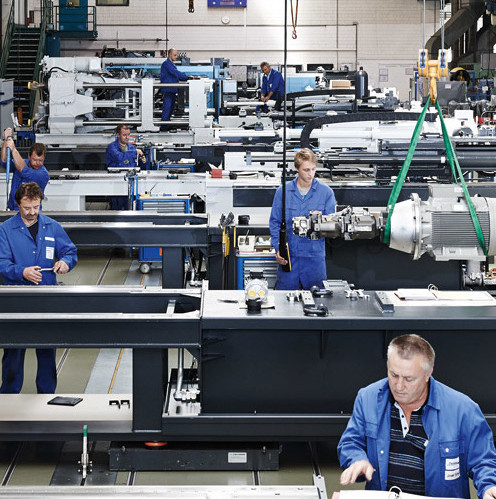 Mission
We deliver standardised, ecologically and economically sound solutions that are easy to use.
Our production is reliable and flexible.
We are constantly working to improve our processes, our efficiency and profitability.
Values
We attach great importance to our global network of sales and customer service, which is customer and industry focused.
We create differentiated products that benefit from synergies within the Sumitomo Plastics Group.
We strengthen future-oriented business areas such as IoT and automation.